ITN-workshop at the XVIII International Conference on Patristics Studies in Oxford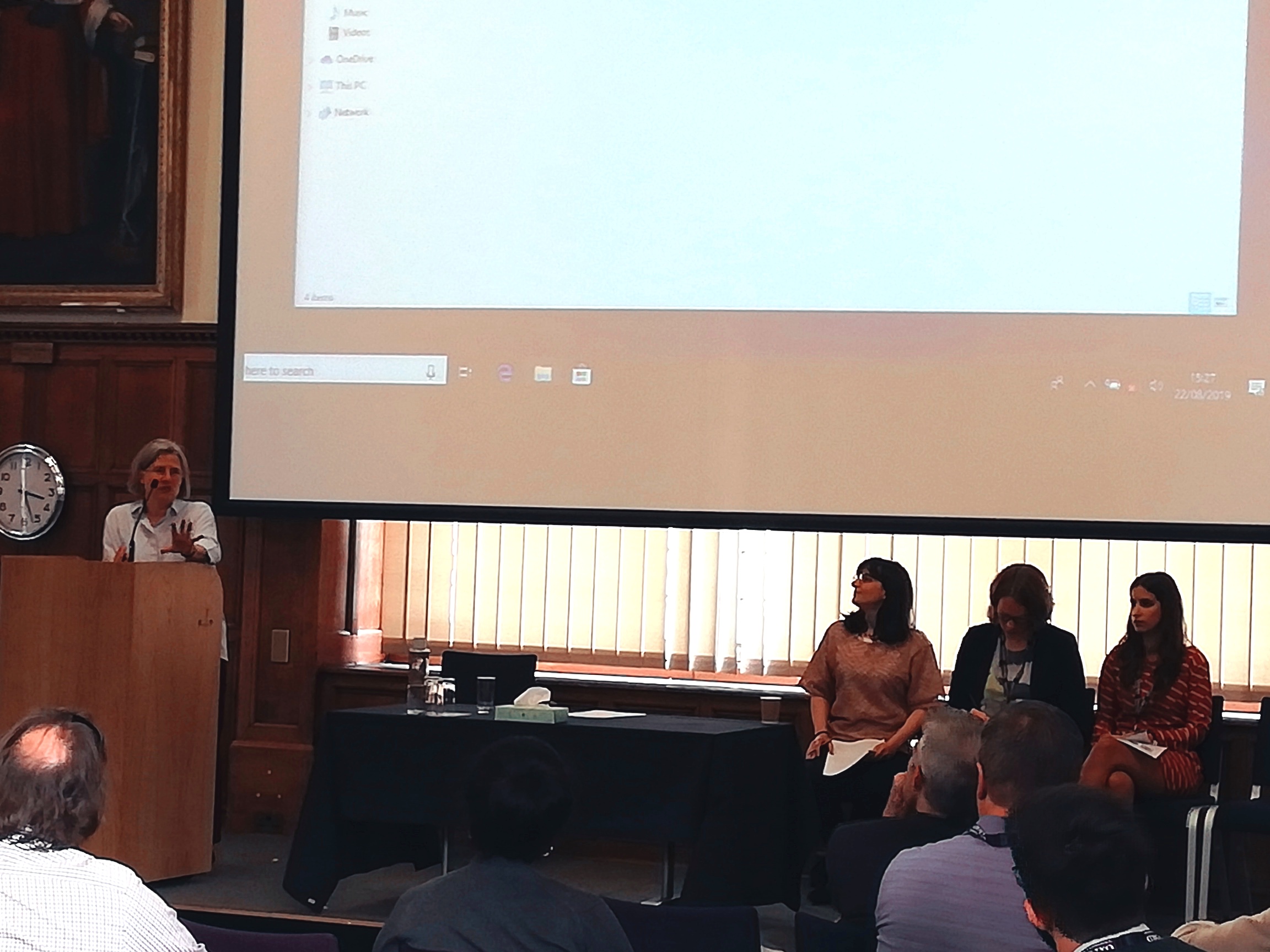 The XVIII. Oxford Patristics Conference took place from Monday 19 August 2019 to Saturday 24 August 2019 with around 1,000 delegates. Under the chair of György Heidl (University of Pecs, Hungary) and with Peter Martens (St Louis University, USA) as a respondent, there was organised a workshop on Role Models for Human Freedom and Dignity in Origen with Professor Dr. Karla Pollmann (University of Bristol, UK, "Human Dignity and Soft Power in Origen"), Ilaria Scarponi (University of Bristol, UK, "The Liber de Induratione in defence of freedom of choice"), Sara Contini (University of Bristol, UK, "Judging the Judges: Exaltation and Humiliation in Origen's Homilies on Judges") and Monnica Klöckener (University of Münster, Germany, "The Samaritan Woman at Jacob's Well (Jn 4) as an Example of Gaining Knowledge") as speakers.
The discussant, Peter Martens, wrote:
Scholars from six European universities are currently collaborating in a EU-sponsored project on "The History of Human Freedom and Dignity in Western Civilization" (http://itn-humanfreedom.eu/ [http://itn-humanfreedom.eu/]) with the aim of reestablishing Origen's important role as an influential Christian advocate of the core Western values of human freedom and dignity. To lay the foundations for this project one team investigates closely how these concepts are developed in Origen himself and where the limits and dangers of an anachronistic assessment lie. This workshop intends to discuss some important findings, including the crucial difference between freedom and free will, and the complex notion of dignity comprising sociological, legal, and philosophical-theological facets. All papers will pay particular attention to the interplay between early Christianity and its surrounding culture, and highlight the dual characteristic of Christianity as absorbing some of its environment on the one hand, and on the other as a driver of social and cultural change, a process in which Origen played a particularly dominant role. This set of communications will focus on early Christianity's bold endeavour to present itself as a religion that intended to have a specific societal and political impact, that wanted to put a personalized God into sharp relief in his interactions with individuals, and that portrayed its message as pertinent not only to an elite but to all strata of society. Hence, the invited speakers will analyse relevant and partly under-researched passages from Origen himself, concentrating on his rhetorical technique to exemplify ethical values by way of concrete biblical role models, and offering comparisons with his reception in Pelagian circles of the 5th century. The texts will be explored as to their ability to persuade by the means of "soft power" which aims at shaping the preferences of others through appeal and attraction by involving the use of cultural influence.
Abstract of Karla Pollmann's paper:
As has been widely acknowledged by recent scholarship, Origen played a crucial role in turning Christianity into an intellectually acceptable religion. Apart from appealing to the pagan elite of his time, Origen was also keen to extend the relevance of the Christian message of salvation to other strata of society. In particular his sermons make therefore use of a wide range of examples taken from the Bible of from everyday life in order to illustrate major theological points. His rhetorical technique of persuasion can be described in terms of "soft power" which aims at shaping the preferences of others through appeal and attraction by involving the use of cultural influence. In this technique he is partly imitating the biblical style itself as evident both in the Gospels and Paul, and partly employing a pagan rhetorical approach where examples were a core feature in illustrating an argumentative point. This paper intends to analyse passages from a wide range of Origen's works in order to illustrate how he drew on role models both of high rank and taken from everyday life in order to demonstrate that salvation as brought about by the Christian God was meant to be directed towards all human beings.
Abstract of Ilaria Scarponi's paper:
Attributed by recent studies to an anonymous author active after 411, the Liber de Induratione is a Pelagian work. The Pelagians believe all human beings to be able through their free choices to achieve holiness in this life, and salvation in the afterlife. Some biblical verses, however, suggest that salvation is precluded to some and foreordained for others, according to the irresistible will of God. In line with Pelagian principles, De Induratione rejects any deterministic interpretations of the Bible, and comments on it by stressing the role played by freedom of choice in view of salvation. In this context De Induratione pays special attention to the interpretation of Romans 9. Scholars have touched upon the relationship between the Pauline exegesis in the De Induratione and in preceding and contemporary authors. Recent studies suggest that the De Induratione is especially indebted to Origen's commentary on Romans in its Latin translation by Rufinus from 405/406. This paper will analyse some of the exegetical solutions in the De Induratione, on the one hand investigating the degree of their originality, on the other exploring the relationship between them and the older exegetical tradition.
Abstract of Sara Contini's paper:
Origen's nine Homilies on the Book of Judges were delivered in Caesarea of Palestine most likely during the peaceful reign of Philip the Arab (245-249) and were translated into Latin by Rufinus of Aquileia between 401 and 403. Origen deals with the biblical narrative of the cyclical abandonment and renewal of the covenant between God and his people: the Israelites neglect their pact with the God who led them out of Egypt and start to worship idols. God hands them over to their enemies; this punishment serves an educational purpose, as it prompts them to pray to God to raise a new leader amongst them. The wars, kings, and heroes of the Book of Judges are interpreted by Origen in the context of his notion of the journey of the human soul from the slavery of sin back to the triumph in Christ. The paper intends to investigate passages from the homilies where Origen, in Rufinus' translation, reflects on the relationship between God and his children and on the role of the mediators who facilitate this connection, by employing an effective communication style based on powerful oppositions, such as high versus low or light versus dark
Abstract of Monnica Klöckener's paper:
In the 13th book of his Commentary on the Gospel according to John, Origen deals with Jesus' encounter with the Samaritan woman at Jacob's well (Jn 4). Origen was requested by Ambrose to rebut Heracleon's commentary on John. Heracleon had argued that people remain at the same level of knowledge throughout their lifetimes and are incapable of gaining further knowledge.
Origen interprets the Samaritan woman as an image for the thoughts of heretics studying Scripture and the water from the well as Scripture. The living water that Jesus is able to give represents Jesus' teaching, which leads to a higher and eternal life.
At first, the Samaritan woman misunderstands the biblical texts. After asking Jesus for the living water, she receives some, which in Origen's interpretation is salutary teaching. Thus, the woman no longer needs to come to the fountain. In fact, she now contemplates the truth as the angels do. The Samaritan woman leaves her vessel, which in Origen's interpretation represents false teaching, at the fountain and goes into the town in order to tell the people about Jesus. By doing this, she gives them the opportunity to leave the town (i.e. false teachings) and to receive salvific teaching.