New publications from Mohr Siebeck
Two new books on human rights have recently been published by one of our partner organizations, Mohr Siebeck.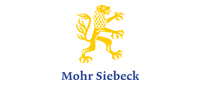 New publications on human rights
Bernward Gesang
Wirtschaftsethik und Menschenrechte
Ein Kompass zur Orientierung im ökonomischen Denken und im unternehmerischen Handeln
2016. IX, 190 pages (utb S 4562). ISBN 978-3-8252-4562-7 paper EURO 14.99
Wir befinden uns in einer Welt, die von globaler Armut und Raubbau an zukünftigen Generationen gekennzeichnet ist. Was sollen die Staaten tun, um das zu bekämpfen? Und was die Unternehmen? Um eine Antwort zu finden, stellt Bernward Gesang eine kritische Rückfrage an die Ethik: Was nützt es dem Praktiker, wenn er liest, dass er als Kantianer A, aber als Utilitarist B tun sollte? Das verhindert Motivation. Daher formuliert der Autor hier eine Konsensposition, der die meisten Moralphilosophen zustimmen können. Diese Position wird utilitaristisch begründet, geht von den Menschenrechten aus und wird von fast allen anerkannt. Was sie genau beinhaltet, wird in einem Pflichtenkatalog festgelegt. Zudem wird darüber nachgedacht, wie wir unsere Demokratie umbauen können, um diese Pflichten durchzusetzen.
Title in English:
Economic Ethics and Human Rights. A Compass to Navigate Economic Thinking and Entrepreneurial Activity.


The world we live in now is defined by global poverty and the exploitation of future generations' resources. What ought governments do to fight this? And what ought businesses do? In the search for an answer, Bernward Gesang subjects ethics to critical scrutiny: what use is it to the actual practitioner to learn that as Kantian he should do A, but as Utilitarian B? Because this stops the motivation of adhering to corporate ethics dead in its tracks, the author has formulated a consensus position that most moral philosophers will be able to agree with. This position is justified in a utilitarian way, based on human rights and recognized by nearly everyone. Its exact contents are set out in a catalogue of duties. Thoughts are also expressed about how our democratic system could be rebuilt in order to house these.
Link:
https://www.mohr.de/en/book/wirtschaftsethik-und-menschenrechte-9783825245627
Theodor Schilling
Internationaler Menschenrechtsschutz
- Das Recht der EMRK und des IPbpR
3rd, revised edition 2016. XXII, 461 pages (Mohr Lehrbuch). ISBN 978-3-16-154793-5 paper EURO 36.00 eBook
Dieses Lehrbuch veranschaulicht das System des internationalen Menschenrechtsschutzes, wie es sich seit der Mitte des letzten Jahrhunderts entwickelt hat und wie es in Deutschland gilt.
Für die dritte Auflage hat Theodor Schilling das gesamte Werk gründlich überarbeitet und auf den aktuellen Stand der Rechtsprechung (31.12.2015) gebracht. Gänzlich neu konzipiert wurden die Abschnitte über die Zusicherung der Menschenrechte durch die Vertragsstaaten sowie ihre Hoheitsgewalt, das Recht auf Leben, die Ausübung der Religion und die Fairness im Strafverfahren. Neu eingefügt wurden Abschnitte über den Menschenhandel und die Freiheitsentziehung im bewaffneten Konflikt.
Title in English:
The Protection of Human Rights on a Universal and a European Level. 3rd expanded and revised edition
This book gives a synoptic description of first generation human rights as protected by the ECHR and the CCPR. The new edition has been completely revised and updated.
Link:
https://www.mohr.de/en/book/internationaler-menschenrechtsschutz-9783161547935